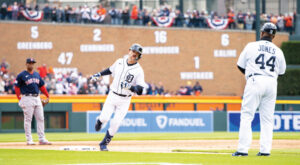 By Larry Arreguin
DETROIT, MI – Opening Day at Comerica Park was not as frigid as in recent years, but the outcome was cold — the Tigers lost to the Red Sox 6-3. Spencer Turnball, Right Handed Pitcher (#56) started for Detroit and suffered the loss, giving up 5 runs, including a homer to Rafael Devers, Third Baseman (#11).
The Tigers did manage to score 3 runs, 2 coming from a 414' blast by Jake Rogers, Catcher (#34) in the 2nd inning. Miguel Cabrera, Designated Hitter (#24) knocked in the other run in the 3rd, on a RBI single that scored Spencer Torkelson, First Baseman (#20).
The rest of the Opening Weekend was just as frosty, with the Tigers losing 14-5 on Friday and 4-1 on Sunday. The Tigers go on the road for a 3 game series against the Blue Jays, then host the Houston Astros, followed by the Cleveland Guardians.