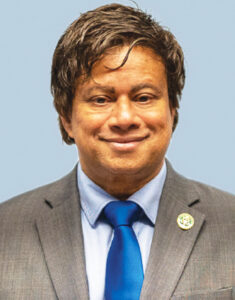 Op Ed by Larry Arreguin
WASHINGTON, DC, May 1, 2023: Living the "American Dream," is at the core of what Freshman Congressman Shri Thanedar extols in the 118th Congress. From Belgaum, India to Michigan's State Capital in Lansing and now in Washington, DC, his entrepreneurial spirit has led him to areas many leaders aspire. His willingness to listen to his constituents and advocate on their behalf, has led him to introduce or co-sponsor 37 bills in the first 100 days of Congress.
Getting to the United States was not an easy task, "it took 3 attempts to obtain a Visa," as he shared in his Washington Office. That persistency led him to the University of Akron, where he pursued and obtained a PhD in 1982.
The Congressman shared how difficult it was to obtain a loan to pursue yet another dream, acquiring his own business. With the loan secured, he rolled up his sleeves and went to work increasing annual sales from $150,000 to over $16 million. He later sold the company and founded another with his son, and in 2016, he sold a majority stake to an equity firm. With proceeds from the sale and shortly before Christmas, he thanked his staff for their hard work by providing $1.5 million in bonuses.
Having achieved several accolades for running successful businesses, including the Ernst & Young Entrepreneur of the Year for the Central Midwest Region in 1999, 2007 and 2016, the Congressman set his eyes on politics. Although he was not successful in his Michigan gubernatorial run in 2018, he did out-poll his opponents in Detroit. This led him to a successful Michigan House of Representatives campaign in 2019, where he served one term representing Detroiters, before he was elected last year to Congress.
With one of the more diverse Districts in the Congress, stretching from Grosse Pointe Woods on the far East to Romulus on the far West, Southgate on the South and Detroit on the North, making sure his constituents needs and concerns are addressed is a top priority. "Providing financial literacy to our seniors is something I'm working on, as well as making sure there are opportunities for our retuning citizens," stated the Congressmen.