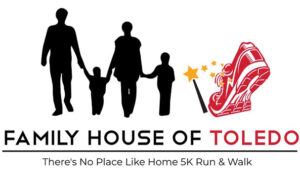 BENEFIT RUN/WALK FOR FAMILY HOUSE SHELTER MAY 20 2023 
2nd ANNUAL 5K BENEFIT. THE COURSE TRAVELS ALONG THE MAUMEE RIVER FEATURING VIEWS OF DOWNTOWN TOLEDO ATTRACTIONS.
TOLEDO, OH (May 16, 2023) – The There's No Place Like Home 5K is a timed run and walk fundraiser for The Family House homeless shelter.
Saturday May 20th 2023 at 9:00 A.M.
To Register go to: RunSignUp.com
All Ages and Ability Levels are Welcome – Bring The Family
All Registered Participants will Receive a Medal and Snacks afterward
The course starts and finishes at The National Museum of The Great Lakes; traveling along The Maumee River, through The Glass City Metropark, Toledo's International Park and The grounds of The Museum.
Register early to receive a Day Pass to The Museum and a Commemorative T-Shirt.
About The Family House
In 2022 Family House served 160 families; 247 Adults, and 233 Children.
Family House has offered hope to families since 1985. What sets Family House apart from most other shelters in Northwest Ohio is that we accept whole families; Family House is the Largest Family Shelter in northwest Ohio.
Family House provides case management in a safe supportive environment to help residents get on their feet to move them on to permanent housing and solutions to hopefully end the cycle of poverty.
Family House provides for immediate needs, as well as providing the tools to become self-sufficient. We dedicate our efforts to creating an environment that is compassionate, and respectful of all individuals regardless of the factors contributing to their homelessness.