The 31st Annual Parade the Circle and Circle Village is BACK to kick off summer in the Circle! 
Saturday, June 10, 2023 10:00 AM – 4:00 PM
WADE OVAL
10820 EAST BLVD.
CLEVELAND, OHIO 44106
Presented by The Cleveland Museum of Art & University Circle Inc.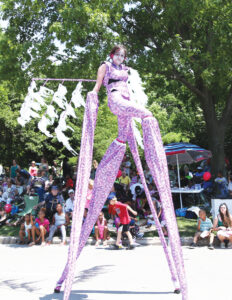 Celebrate your heritage at the Lorain International Festival and Bazaar
June 23 – 25, 2023
Hours: Friday 5-11pm / Saturday 12-11pm / Sunday 12-5pm
Located at: Black River Landing Festival Site in Lorain Ohio
The 55th annual Lorain International Festival and Bazaar is joined by the Ukrainian Community and the Lorain Historical Society as the spotlight nationality and organization.
The three-day bazaar takes place along the scenic Black River Landing site, and features a multitude of foods with a wide variety of ethnic cuisine to sample. There is wonderful entertainment throughout the weekend including on-going live performances. Stop by the different cultural booths that feature crafts and items from many homelands. There are covered dining areas, paved walkways and free parking.
2017 photo courtesy of Arooj Ashraf