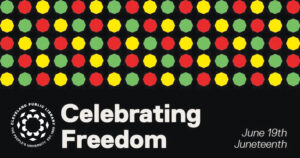 June 1, 2023: Cleveland Public Library is announcing its upcoming programming in celebration of Juneteenth, a historic day commemorating the emancipation of enslaved African Americans. Throughout the month of June, the library will host a series of engaging and educational events to honor this significant milestone in American history.
"Cleveland Public Library is dedicated to knowledge, inclusion, and community," said Ashley Boyd, Director of Diversity, Equity, and Inclusion at Cleveland Public Library. "We are proud to contribute to the recognition and celebration of Juneteenth, fostering a deeper understanding of our shared history and promoting a more inclusive and equitable community. We welcome everyone to participate in our Juneteenth programming."
FREEDOM FEST: We encourage all families to visit the Cleveland Public Library booth at this lively and vibrant celebration of African American culture on Saturday, June 17, 2023 from 10:00 a.m. – 6:00 p.m. on Mall C in downtown Cleveland.
THE RIGHT TO READ: As part of the Cleveland READS Challenge, Cleveland Public Library and Northwest Neighborhood are hosting a movie and conversation about the fight for every child's right to read. Join us at the Capitol Theatre on Monday, June 19 from 1:00 p.m. – 3:30 p.m. to watch the film, The Right to Read, which shares the stories of an activist, a teacher, and two families who fight to provide our youngest generation with the most foundational indicator of life-long success: the ability to read.
STRONGER TOGETHER: Join Cleveland Public Library, the Western Reserve Historical Society, and the Jewish Federation of Cleveland for dinner and a community conversation about the past and future of African American-Jewish relations. Stronger Together: Exploring Jewish-African American Activism Relations, Past and Present will be held on Tuesday, June 20 from 6:00 p.m. – 9:00 p.m. at the Western Reserve Historical Society located at 10825 East Blvd. in Cleveland. Registration is required.
The FREE event will feature New York Times best-selling co-authors of the young adult novels I'm Not Dying With You Tonight and Why We Fly, Gilly Segal and Kimberly L. Jones. The Western Reserve Historical Society's Distinguished Scholar of African American History and Culture, Dr. Regennia N. Williams will moderate the discussion.
Attendees will receive one free copy of I'm Not Dying With You Tonight, Why We Fly, or Through the Lens of Allen E. Cole (while supplies last). Visitors can also immerse themselves in the rich history of the Western Reserve Historical Society and enjoy a ride on the beautiful carousel.
JUNETEENTH PROGRAMS & EVENTS AT CLEVELAND PUBLIC LIBRARY BRANCHES
JUNETEENTH CRAFTS: Celebrate Juneteenth with family fun activities and crafts at three neighborhood branches: Addison, Fleet, and Rice. Visit our online calendar for activity dates and times.
JUNETEENTH FAUX CAMPFIRE STORYTIME: On Thursday, June 8, the Rice Branch will host a family-friendly Storytime for children ages 3-5 from noon – 1:00 p.m. Children will read books and enjoy a campfire-inspired treat.
MUSIC AT MAIN: Djapo Cultural Arts Institute will bring its traditional African drums and dance to the Louis Stokes Wing Auditorium on Saturday, June 10 from 2:00 p.m. – 3:00 p.m.
JUNETEENTH DRUMMING CELEBRATION: Enjoy the sounds of our ancestors with a live performance by African drummer Sogbety Diamonde. The celebration will take place on Friday, June 16 at the Glenville Branch from 3:00 p.m. – 4:00 p.m.
JUNETEENTH WRITING COMPETITION: Learn about the history of Juneteenth, then share your thoughts in our essay contest. Prizes available. The competition will take place at the Martin Luther King, Jr. Branch on Monday, June 12 from 3:00 p.m. – 4:00 p.m.
BLACK STORYTELLERS: The Cleveland Association of Black Storytellers will provide an interactive and engaging oral history of the Juneteenth holiday on Thursday, June 15 at the Union Branch from 3:00 p.m. – 3:45 p.m.
WHAT IS JUNETEENTH? BLACK HISTORY TRIVIA: Visit the Sterling Branch for a group reading of Opal Lee and What It Means to Be Free by Alice Faye Duncan. Then, test your knowledge of historic moments in African American history with a fun and educational trivia challenge. The program is on Monday, June 26 from 1:30 p.m. – 2:30 p.m.
All Juneteenth programming at Cleveland Public Library will be free and open to the public. A detailed schedule of events and registration information can be found on cpl.org.