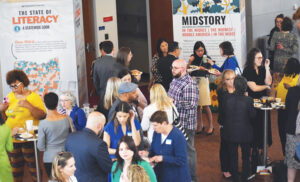 The Greater Toledo Community Foundation (GTCF) hosted an event entitled Local Tales & Cocktails for young professionals and leaders in our community on May 18, 2023 at the Downtown Toledo Public Library. More than 200 attendees gathered to learn about the Foundation and literacy in northwest Ohio.
In celebration of its 50th anniversary, the event featured the unveiling of the Greater Toledo Community Foundation history book, which all attendees received, and a panel discussion on literacy in Toledo featuring Shawna Woody, HOPE Toledo; Tiffany Adamski, TutorSmart; Dr. Tracee Perryman, Center of Hope Family Services; and Diana Bush, Read for Literacy.
The event also featured a multi-media presentation on literacy in our community by Midstory—all followed by a cocktail party featuring historic cocktails and noshes by SAME Café.
Upcoming GTCF events:
June 25: Toledo Mud Hens Event / Fifth Third Field
July 1: GTCF Summer Concert Series in conjunction with ProMedica, Ottawa-Jermain Park, and Metroparks Toledo (Jazz in the Gardens and Glass City Pavilion) / Multiple Locations
August 19: Roofing Project and Rock the Block Event / Toledo
September 9: Day of STEAM with Imagination Station, National Museum of the Great Lakes and Toledo Museum of Art / Toledo
For more information go to: https://50yearsfortoledo.com/events.