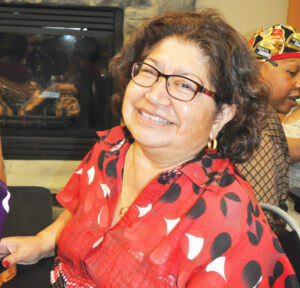 By La Prensa Staff
TOLEDO, May 31, 2023: The Spanish American Organization (SAO) and Latins United both are saying farewell to a long-time member and club officer with goodbye parties next week.
Retired educator Mary Morales, 74, is leaving Northwest Ohio for Florida, 'so she can be closer to her family and grandchildren.' Ms. Morales has served both organizations (among others) for over three decades. She will leave her Holland home behind and settle in the Tampa area July 1. Two of her three sons and six of seven grandchildren now reside in the Sunshine State.
"I'm excited, but sort of scared, too, because this is going to be a new adventure," she said. "I'm telling people they can come visit me. I'll have a two-bedroom place."
Ms. Morales plans to get involved with a large Catholic church in Tampa, after attending Ss Peter and Paul and Little Flower Church in the Toledo area.
SAO will celebrate Ms. Morales at its regular meeting Tuesday, June 6, 6 p.m., at Latins United with food and cake. She has served as the nonprofit's treasurer for a number of years.
Latins United will recognize her after its monthly meeting June 11, where four Latino students also will receive scholarships. Ms. Morales has served as the organization's recording secretary, treasurer, and chair of its scholarship committee during her long tenure as a member. The dinner honoring Ms. Morales begins at 4 p.m.
Ms. Morales also served as a board member for the Catholic Order of Foresters for nearly a decade.
Ms. Morales recently served as the keynote speaker at her alma mater Waite HS, where she also taught for 20 years. The Cinco de Mayo program speech gave her an opportunity to offer some sage advice to the students in La Raza Unidos, a longtime Latino student organization.
"I told them to respect the teachers that like you, because they're the ones that are going to give you advice, good advice," she said, recalling her own days trying to navigate school as the oldest of seven children, whose own parents had never graduated. "I depended on my teachers. The teachers that I liked, they're the ones I listened to their advice. I didn't have any previous knowledge about education until I came to school and noticed math came easy to me. I couldn't speak English when I started."
Ms. Morales received the Distinguished Alumni Award (class of 1966) from the Waite HS Alumni Association in the field of education and community service at its 59th annual Purple and Gold Dinner Celebration in April.
"The ceremony went great. I was floored. I thanked my family. I thanked my friends. It was just a good old time," she said, noting the other alumni honored that same evening. "I was just happy that they nominated me."
The Ohio Commission on Hispanic/Latino Affairs (OCHLA) named Ms. Morales a Distinguished Hispanic Ohioan (DHO) award winner in 1998. She received a Diamante Award in 2004, the same year her alma mater, the University of Toledo, presented her an educator of the year award for her 36 years teaching high school math and calculus. She also taught at Rossford, Ottawa Hills, Oregon, and the former Macomber HS.
Editor's Note: La Prensa wishes to extend buena suerte wishes to Ms. Morales.