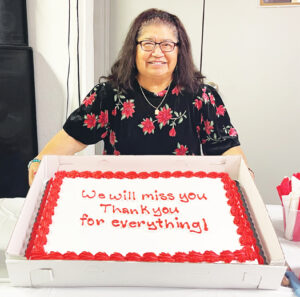 By La Prensa Staff
TOLEDO, June 11, 2023: Latins United added a bit of pomp and circumstance to its regular meeting Sunday, June 11, distributing four college scholarships and honoring long-time board member Mary Morales, who is departing for Florida to be closer to her kids and grandkids.
Ms. Morales presented $1,000 awards to three students in attendance for the final time as scholarship committee chair for Latins United.
Selena Garcia graduated last month from Clay HS, where she maintained a 4.0 GPA and played basketball. She transferred from Notre Dame Academy during the pandemic after spending her first two years of high school where she played basketball and soccer. The Oregon native plans to attend the University of Cincinnati in the fall where she'll major in business. Ms. Garcia has plenty of experience in that arena, volunteering at Sun Federal Credit Union and working in customer service at a car wash and an ice cream shop.
"That's one of my main goals, getting out of my comfort zone," she explained of going to the University of Cincinnati, even though she'll have two high school friends as roommates. "I really want to get out there this year (by joining organizations), getting more involved."
Nicholas You recently graduated from Perrysburg HS with a 4.232 GPA, where he took AP courses in Spanish, biology, and statistics. He played tennis and wrestled during his Yellow Jackets athletic career. He'll attend the University of Findlay, majoring in pharmacy with a minor in Spanish. He credits a campus tour his junior year with sparking his decision.
"That was my first college tour. Before that I was really scared about getting my feet into college. Before I was just thinking about it because I was so unsure about it," he admitted. "It was a launching point to me figuring out what I want to do and navigating the ropes of it."
Melissa Villolovos earned a diploma from Waite HS, where she was active in National Honor Society, Young Women of Excellence, and Razas Unidas, among other activities. She'll go to The Ohio State University this fall, majoring in film studies and screenwriting, hoping to one day write scripts for video games.
"It started when I got a video game as a gift one Christmas and I loved it," she explained. "I loved the story. I loved how immersive a story can be when you play video games. I want to do that. When I got the game, I didn't even have an Xbox. I was playing it on my brother's (game) console and I fell in love with it. I fell in love with the story and how much I connected with it."
The fourth scholarship will be presented at a later date to Elana Neal, also a recent Waite HS graduate. The former volleyball captain also took part in National Honor Society, Young Women of Excellence, and Upward Bound. She maintained a 3.85 GPA while also working at various times for Sonic, Arby's and Jade Express. Ms. Neal with attend Bowling Green State University.
Each of the students stated the scholarship will be a gap-filler help them with the extra expenses posed by college, including books, fees, and housing.
"My program does not cover everything," said Ms. Villolovos. "This will help cover, because I have some I have to pay out of pocket and that will help."
"This is a stepping stone to help keep things going and help pay for everything," echoed Mr. You.
Following the scholarship presentations, Francisco Aguilar Moraga served as the master of ceremonies for the informal dinner honoring Ms. Morales, who drew a room full of well-wishers, including her son and 14-year-old grandson who still reside in Sylvania. The remainder of her immediate family has moved to Florida, where she will reside after July 1.
Congresswoman Marcy Kaptur presented Ms. Morales with a US-American flag flown over the U.S. Capitol. Toledo City Council member Theresa Morris and Lucas County Auditor Anita Lopez each presented Ms. Morales with proclamations honoring her many years of community service and as an educator.
"We want to express our appreciation of your life, your life of giving," said Congresswoman Kaptur. (You've been) a teacher, mentor, activist, leader, and I'll say a mother for everyone."
"We are so fortunate Mary chose to be a teacher," said Ms. Lopez. "When you think of all the children who were impacted by her, we are blessed. You mean the world to us."
"Mary always answers a call to serve," said Ms. Morris. "Whether it was at TPS, here at Latins (United), wherever it was, she always answered the call. We are so proud of you."