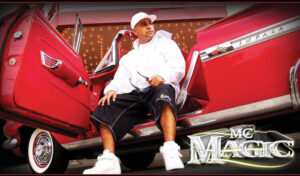 By Larry Arreguin
DETROIT, MI, Tuesday, June 6, 2023: When it comes to Latinos and rap music, a name that continues to emanate on the scene is MC Magic. With over 28 years of performing to audiences Magic's (Marco Cardenas) music has withstood the times and continues to attract new fans of all ages. "I believe love is the Strongest Power in the World," stated MC Magic.
The rap star was born in Nogales, Sonora, Mexico and in the presence of his mother, would often hear her listening to love songs from Juan Gabriel and others. "I spoke Spanish growing up and bilingual music was rare in 1994." Because of this, breaking into mainstream music was difficult and Magic took a different approach and started his own label. This allowed him the freedom to continue to build his music catalog and also sign up and coming performers.
Detroit will be a first for the Entertainer who has a robust 2023 touring schedule that includes: CA, TX, OK, MD, NJ, NY, NC, GA, AZ, NV and San Luis Obispo. With a goal to "reach new territory," he's looking forward to visiting the home town of Eminem and the birthplace of soul music.
Believing in others and having been told "you can be anything when your grow up," Magic continues his humble ways by providing local acts an opportunity to "shine in their own town." Nora Yvelle, from Southwest Detroit will have that chance as an opening act. "Put the work behind it, being in this business for 25 plus years wasn't easy."
Later this year, MC Magic will celebrate his 28th wedding anniversary and knowing his 80-year-old mother can see the hard work has paid off, his appearance at the Majestic Theater should be memorable.
To obtain tickets for the June 24th Concert at the Majestic Theatre Center in Midtown Detroit or for more information please visit www.majesticdetroit.com or www.nastyboyrecords.com