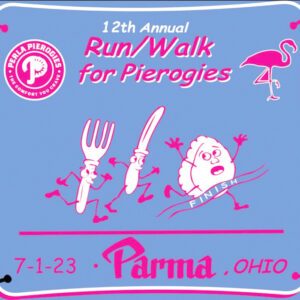 The 12th Parma Run-Walk for Pierogies, sponsored by Perla Pierogies, University Hospitals Parma Medical Center, and Cuyahoga Community College, is coming up on Saturday, July 1, 2023 at 7:30 am at host Cuyahoga Community College's western campus.
Participants may either run or walk the 5k (3.1 miles) or walk the one-mile course.  Pre-registration is only $25 ($15 for ages 11 and under) and may be completed online at runsignup.com/Race/OH/Parma/runwalkforpierogies.  Day of event registration is $30.  .
Those who place in the top three spots in several age groups win our signature pierogie necklace award.  The first 600 registered are guaranteed to receive our famous Parma Run-Walk for Pierogies t-shirt.
When you have completed the event, David and Daniel Serban from Perla's Pierogies will provide participants with freshly prepared pierogies, as well as a coupon for a half-dozen pierogies.
Proceeds raised by the Run-Walk will benefit local charities and community projects.  Visit: Facebook and Twitter @pierogie5k.
Questions can be sent to event director Sean Brennan at pierogie5k@gmail.com