City Stages to bring the best in global music to Ohio City's Hingetown neighborhood
CLEVELAND (June 21, 2023)—City Stages, the Cleveland Museum of Art's acclaimed free outdoor summer concerts featuring the best in global music, has returned. These block parties will take place in front of Transformer Station on consecutive Wednesdays, July 19 and 26, at 7:30 p.m.
"We are thrilled to present two acclaimed bands known for their unique interpretations of contemporary Afro-Caribbean music," said Gabe Pollack, director of performing arts. "We are excited to see the community come together for this free, outdoor dance party in Ohio City's Hingetown neighborhood."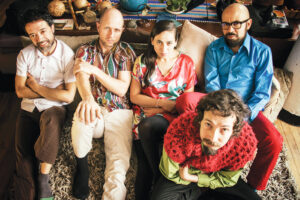 Wednesday, July 19 
Meridian Brothers is a five-piece Colombian band focused on reinterpreting Latin tropical styles with a psychedelic and experimental sensibility that retains the sense of fun and celebration essential to the music. The group's music uses popular Latin American rhythms augmented by sampling techniques, elaborate effect processing, and Eblis Álvarez's quirky and theatrical vocals, which channel imaginary characters with both pathos and humor.
Wednesday, July 26
Battle of Santiago, based in Toronto, creates a unique sound by combining classic Afro-Cuban rhythms and vocals with a distinctly Canadian art-rock spirit and sensibility, subtle electronica, and rumbas.
Arrive early and grab dinner and a drink at one of Ohio City's bars or restaurants or visit one of the local shops. Seating is limited—bring camp chairs and enjoy an evening of music and dancing in the street.
Parking is available in the Lutheran Hospital parking lot located at West 28th Street and Franklin Boulevard. FREE to all.
Transformer Station is located at 1460 West 29th Street (at the corner of Church Avenue), Cleveland, OH 44113. Normal hours are Wednesday to Sunday, 11:00 a.m. to 5:00 p.m., but Transformer Station will remain open until 9:00 p.m. during City Stages.
About the Cleveland Museum of Art
The Cleveland Museum of Art is renowned for the quality and breadth of its collection, which includes more than 63,000 artworks and spans 6,000 years of achievement in the arts. The museum is a significant international forum for exhibitions, scholarship and performing arts and is a leader in digital innovations. One of the top comprehensive art museums in the nation, recognized for its award-winning Open Access program and free of charge to all, the Cleveland Museum of Art is located in the University Circle neighborhood.