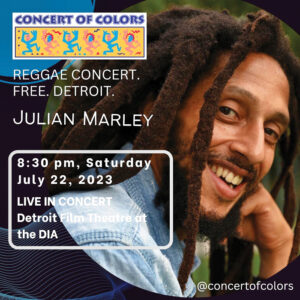 DETROIT, MI, June 21, 2023: Partner institutions together announce the lineup of the 31st Annual Concert of Colors -returning live and outdoors at the Detroit Institute of Arts and in and around the Cultural District, July 19-23, 2023. The city's most beloved free, global music diversity festival with food vendors, films, poetry, lectures, and of course, live music is bigger than ever with headliner Julian Marley. The announcement was made by festival founder Ismael Ahmed and DIA Director Salvador Salort-Pons.
Adding to the excitement, this year's Concert of Colors lineup includes Detroit's favorite Grammy Award-winning producer and musician Don Was with his All Star Revue tributing Detroit's Jazz greats; curated by musician Marion Hayden and WDET's Ann Delisi. Also headlining: Jessica Care Moore will bring in the nation's top female Black rock musicians together for her show, "Black WOMEN Rock!" along with Dengue Fever who combines Cambodian rock and pop from the 60s and 70s with psychedelic rock and world music; and Palestinian-American musician Simon Shaheen. This year also has an emphasis on music from the Caribbean.
The full lineup of this annual free, family-friendly event is below and via www.concertofcolors.com
Coming out of Covid-19 lockdowns, the lineup is bigger this year with bigger names and an expanded lineup.
Along with the DIA location and Detroit Film Theatre at the DIA, entertainment will also be held at the Arab American National Museum, The Charles H. Wright Museum of African American History, Hellenic Museum of Michigan, Scarab Club, Detroit Historical Society Auditorium, Carr Center, DSO, Third Man Records, University of Michigan Detroit Center, and Michigan Science Center among others.
"As Concert of Colors celebrates its 31st year as Detroit's largest, free, inclusivity festival, we have made the decision to go back to the festival's roots – hosting it primarily outdoors," Festival Founder Ismael Ahmed said. "The festival once again brings the most talented musicians from their respective countries into Detroit to offer the region a chance to hear music from around the world. Historically the festival also provides artists an opportunity to perform at one of the most iconic festivals in the Midwest."
While several stages, including the main, will be held on the lawn of the DIA, additional events will take place indoors including at the Detroit Film Theatre, said DIA Director Salvador Salort-Pons.
"The Detroit Institute of Arts is thrilled to host the 31st Annual Concert of Colors this year, featuring an incredible lineup of renowned global artists," stated DIA Director Salvador Salort-Pons. "The festival has always been a vibrant celebration of diversity, and having it take place at the DIA – both indoors at the Detroit Film Theatre and outdoors on two stages – free of charge, is a true highlight of the summer in Detroit. Witnessing concertgoers engaging in meaningful and friendly dialogues while showcasing the immense talent of musicians from around the world is what makes this Concert truly special. It's no wonder that it has become one of the longest-running festivals in Detroit."
Along with the music, Concert of Colors will again also offer forums, global cuisine, merchandise vendors, movies, children's activities, conversations on culture and race, and much more. Food truck rallies will be placed on Farnsworth Street.
The upbeat, five-day festival unites metro Detroit's diverse communities and ethnic groups through music, dance and art from around the world – and creates a dialogue where participants embrace freedom of expression. Over its significant 30-year history, the festival has strategically grown into a celebrated, beloved summer festival – one of the few remaining large-scale, free-admission music festivals in the area. Every year, the anticipation of who will perform in the lineup creates excitement among music fans.
The Concert of Colors is a labor of love for Ahmed -who was recently appointed to the National Council on the Arts by President Joe Biden. He is also the former head of what is now the Michigan Department of Health and Human Services under former Governor Jennifer Granholm and is co-founder of ACCESS and the Arab American National Museum.
Concert of Colors was launched by New Detroit Inc., with Ismael Ahmed as chair of its Cultural Exchange Network to create dialogue and bridge cultural differences through art, music and discussion in response to the 1982 racial murder of Chinese American Vincent Chin. Since then, forum conversations on culture and race are held at the festival annually by the Arab American National Museum. The forum is a conference featuring presentations and discussion among artists, people connected to cultural institutions and community leaders to examine the role of arts and culture in overcoming racial and ethnic barriers.
The inaugural festival drew a modest crowd to Detroit's then-Chene Park on the Detroit River, but by 1999, tens of thousands of attendees were coming out each year. The festival expanded to three days in 2001, when it was part of the official festivities for Detroit's 300th birthday, drawing an audience of 100,000. In 2019, the concert expanded to nine festive days. The festival went virtual during Covid-19 with bands from around the world performing from their respective countries: Cuba, Ukraine, Japan, and more. Today it is live again and always free.
Concert of Colors is made possible by its partners Culture Source, the Detroit Institute of Arts, Charles H. Wright Museum of African American History, WDET 101.9 FM, WTVS-DPTV,  ACCESS/Arab American National Museum, Michigan Science Center, University of Michigan-Dearborn, the University of Michigan Detroit Center, Detroit Historical Society, Detroit Historical Museum Midtown, Detroit Symphony Orchestra, Marx Layne & Co., Scarab Club, Hellenic Museum of Michigan, New Detroit, the City of Detroit Department of Arts, Culture & Entrepreneurship, Visit Detroit, WHFR.FM, College for Creative Studies, The LowRiders of Detroit.
Generous Sponsors include Knight Foundation, Kresge Foundation, Skillman Foundation, Midtown Detroit, DTE Foundation, Wayne State University, and Michigan.com.
As the festival has always remained free, the event is created through donations, grants, sponsors, partners, and volunteers.  Individual contributions, corporations, or nonprofit organizations who want to support music and art can donate via the Concert of Colors website. Sponsorship opportunities are also available. To donate, visit https://www.concertofcolors.com/donate.
For more information, visit www.concertofcolors.com
Facebook.com/concertofcolors
Instagram: @concertofcolors
2023 CONCERT OF COLORS LINEUP
CONCERT OF COLORS: DETROIT'S DIVERSITY FESTIVAL
JULY 19-23, 2023
All events are free
www.concertofcolors.com
Wednesday, July 19
Location: Arab American National Museum – 13624 Michigan Ave., Dearborn
6:00-8:30 PM – FORUM ON COMMUNITY, CULTURE AND RACE: AIR, WATER, LAND & CLIMATE CHANGE, speakers TBA
Location: Third Man Records – 441 Canfield, Detroit
8:30-10:00 PM – TRIPLE BLUE NOTE RECORDS RELEASE PARTY FEATURING: THE DAVE McMURRAY BAND (DETROIT JAZZ)
————————————-
Thursday, July 20
Location: Detroit Film Theatre @ Detroit Institute of Arts – 5200 Woodward Avenue, Detroit
8:00-10:00 PM – JESSICA CARE MOORE'S DAUGHTERS OF BETTY – POWERED BY BLACK WOMEN ROCK! FEATURING: DIVINITY ROXX, KIMBERLY NICOLE, IMANI UZURI, LIZA COLBY & KIA AFANI WARREN (SUSU), MILITIA VOX, STEFFANIE CRISTI'IAN & JESSICA CARE MOORE (WE ARE SCORPIO) and MORE (ROCK)
Location: Michigan Science Center  – 5020 John R Street, Detroit
12:00-7:00 PM – ARTS & SCRAPS,  (KID-FRIENDLY ARTS, free admission)
Location: Detroit Symphony Orchestra/Orchestra Hall – 3711 Woodward Ave
6:30-8:00 PM – THE NATIONAL ARAB ORCHESTRA (PAN ARAB & ARAB CLASSICAL)
——————————
Friday, July 21
Location: Charles H. Wright Museum of African American History – 315 E. Warren, Detroit
10:00 -11:30 AM – DISCUSSION: NATIONAL ENDOWMENT FOR THE ARTS CHAIR – MARIA ROSARIO JACKSON, PRESENTED BY THE CHWMAH, MICHIGAN COUNCIL FOR THE ARTS & CONCERT OF COLORS.  PUBLIC INVITED
Location: Carr Center – 15 East Kirby St. Detroit
12:00-1:30 PM – FORUM:  "THEY SAY I'M DIFFERENT: ROCK & ROLL, RACE & RADICAL WOMEN: MODERATED BY JESSICA CARE MOORE: FEATURING THE HEADLINERS FROM BLACK WOMEN ROCK!"
Location: Michigan Science Center
12:00-7:00 PM – ARTS & SCRAPS, (KID-FRIENDLY ARTS, free admission)
Location: Detroit Historical Museum – 5401 Woodward Avenue, Detroit
(ENTERTAINMENT, VENDORS, FOOD & MORE)
STAGE 1 at Detroit Historical Museum
2:00-3:00 PM – THORNETTA DAVIS (DETROIT'S QUEEN OF BLUES)
4:00-4:30 PM – KESSWA (NIGERIAN ALT/DANCE ELECTRONIC, KRESGE FELLOW RECIPIENT)
4:45-5:10 PM – SOUFY (CO-FOUNDER of VIBES WITH THE TRIBES, ANISHINAABE-OJIBWE ARTIST, HIP-HOP)
5:30 -7:00 PM – ROBERT MIRABEL (NATIVE AMERICAN/MULTI-INSTRUMENT)
STAGE 2 at Detroit Historical Museum
3:00-4:00 PM – FUNKWAGON w/ COKO BUTTAFLI (GOSPEL INFUSED FUNK)
4:15-4:45 PM – THE MONALYSE (HIP HOP (Poet turned rapper)
5:10-5:30 PM – HADASSAH GREENSKY (CO-FOUNDER of VIBES WITH THE TRIBES, KRESGE RECIPIENT, ANISHINAABE ARTIST, NATIVE AMERICAN)
6:15-6:40 PM – NICK SPEED (PLATINUM MUSIC PRODUCER, DJ)
6:40-7:30 PM – MY DETROIT PLAYERS (MOODY, GROOVES OF TRIP HOP JAZZ OVER PROG ROCK INFUSED FUNK)
7:30-8:30 PM – POW WOW DANCE BY HADASSAH GREENSKY SOUFY AND JAMIE JOHN (NATIVE AMERICAN/INDIGENOUS)
COMMUNITY STAGE (inside) at Detroit Historical Museum
2:00-2:30 PM – RAAD HAKEEM (TRADITIONAL FOLK SAZ)
2:45-3:15 PM – VICTORINO (FUSION OF HIP-HOP, ROCK, ALTERNATIVE, and LATINO & OJIBWE NATIVE AMERICAN INFLUENCES)
3:30-4:00 PM – AL BETTIS (RnB, SOUL, GOSPEL)
4:15-4:45 PM – GEORGE MONTRELLE (RnB, SOUL, GOSPEL)
5:00-5:30 PM – BRIZZI (HIP HOP)
5:45-6:15 PM – DAY OSHEE MAATIN (HIP HOP)
6:30-7:00 PM – SONNY DULPHI (RnB, SOUL, HIP-HOP)
7:15-8:00 PM – DANI DARLING (PSYCHEDELIC SOUL, FUNK and RETRO SOUL)
*THROUGHOUT THE DAY ONYX ASHANTI (BEAT JAZZ INVENTOR, TED TALK SPEAKER)
Location: Charles H. Wright Museum of African American History
Outdoor Stage
5:00 PM – KARABANTE' -CIRQUE AFRIQUE (ACROBATS/MUSIC/TRADITIONAL/GUINEA)
6:00 PM – BABA BG & ODU AFROBEAT ORCHESTRA (NIGERIAN AFROBEAT)
7:00-8:00 PM – LEGALLY BLYN (R&B AND SOUL)
Location: University of Michigan Detroit Center
6:00 – 9:00 PM – FORUM: MORE THAN 8-MILE: DETROIT'S QUEST FOR HIP HOP: RECEPTION 6:00-6:30; PANEL 6:30- 8:00; AFTERGLOW 8:00-9:00. PANELISTS: TEFERI BRENT, AL NUKE, MICHAEL SMITH, NICK SPEED, SAM DONALD, DEIDRA D.S, SENSE SMITH, MODERATOR DR. ANTONIO CUYLER
——————————
Saturday, July 22
Location: Scarab Club (Behind the DIA) – 217 Farnsworth, Detroit
12:00 -1:30 PM – BOGGS CENTER FORUM: ROLES & RESPONSIBILITY OF ARTISTS IN 2023 AMERICA: THE WAY FORWARD with LENI SINCLAIR, GLORIA HOUSE/ANEB KOGOSITSILE, HALIMA AFI CASSELLS, AMELIA DURAN, STERLING TOLES, REVEREND ROBERT JONES, WAYNE CURTIS, MODERATED BY CHARLES EZRA FERREL
Location: Detroit Institute of Arts
1:00-8:00 PM – ARTS & SCRAPS,  (KID-FRIENDLY ARTS, free admission)
OUTDOOR NORTH STAGE at DIA:
12:00-1:00 PM – KARABANTE': CIRQUE AFRIQUE (GUINEA) (AFRICAN TRADITIONAL)
2:00-3:30 PM – ECNO: EL CONJUNTO NUEVA OLE (MEXICAN) (LATIN ROCK)
4:30-6:00 PM – DETROIT REGGAE SOCA ALLSTARS (CARIBBEAN, REGGAE & SOCA)
7:00-8:30 PM – DENGUE FEVER (CAMBODIAN 60s and 70s ROCK)
WOLVERINE STAGE, OUTDOORS AT DIA
2:30-3:30 PM – KACI THE MODEL & THE KUTIES (CHILDREN'S DANCE)
4:00-5:00 PM – RACQUEL SOLEDAD (SOUL DANCE)
5:30-6:30 PM – MOLLYWOP! (FUNK)
7:00-8:00 PM – TAMBAO BRAVO (CUBAN JAZZ)
8:30-9:00 PM – IAN FINKELSTEIN (DETROIT JAZZ)
Location: Hellenic Museum of Michigan (Next to the DIA) – 67 E. Kirby St., Detroit
3:30 PM – AGEAN ROOTS (GREEK) (FOLK)
5:00 PM – HELLENIC SOCIETY FOR THE PERFORMING ARTS (GREEK) (DANCE)
Location: Detroit Film Theatre inside the Detroit Institute of Arts
1:00-2:00 PM – WDET's TINY DESK ARTIST
3:00-4:30 PM – CALVIN COOK BAND (GOSPEL) (DETROIT)
5:30-7:00 PM – SIMON SHAHEEN (PALESTINE) (ARAB JAZZ)
8:30-10:00 PM – JULIAN MARLEY (JAMAICA) (REGGAE)
Location: Detroit Historical Museum
2:00-4:00 PM – A CONVERSATION WITH DON WAS & JOHN SINCLAIR MODERATED BY ANN DELISI
MUSIC PERFORMANCES BY GEORGE MONTRELLE
For more details and event updates visit www.detroithistorical.org
Location: Scarab Club (behind the DIA)
6:00- 8:30 PM – PAXTON/SPANGLER (JAZZ)
9:00- 10:30 PM – THE ASTRO MYSTIC SAMA ENSEMBLE (JAZZ)
——————————
Sunday, July 23
Location: Detroit Institute of Arts
1:00-8:00 PM – ARTS & SCRAPS,  (KID-FRIENDLY ARTS, free admission)
Outdoor North Stage at DIA
12:00-1:00 PM – WDET's TINY DESK ARTIST
2:00-3:30 PM – ECNO (MEXICAN ROCK)
4:30-6:00 PM – CALVIN COOK BAND (DETROIT) (GOSPEL)
7:00- 8:30 PM – TAMIKREST (TUAREG)/MALI) (DESERT ROCK)
Location: Detroit Film Theatre inside Detroit Institute of Arts
2:00-3:00 PM – INFINITE RIVER featuring ETHAN DANIEL DAVIDSON (DETROIT) (EXPERIMENTAL)
4:00- 5:30 PM – THORNETTA DAVIS (DETROIT) (BLUES)
7:00-9:00 PM – DON WAS ALLSTAR REVUE: TRIBUTE TO DETROIT JAZZ GIANTS featuring DAVE McMURRAY, A. SPENCER BAREFIELD, ISIS DAMIL, ALVIN WADDLES, THORNETTA DAVIS, and the GABRIEL BRASS BAND (DETROIT) (JAZZ)
Location: Detroit Institute of Arts
Outdoor WOLVERINE STAGE at DIA
11 AM-12:30 PM – THE ARK SUNDAY SERVICES (DETROIT)
1:00-2:00 PM – MICHAEL TURNER (DETROIT) (MOTOWN ROCK)
2:30-3:00 PM – ROOTS VIBRATION (CARIBBEAN) (REGGAE)
4:00-5:00 PM – OBIE KING & THE MUTHAFUNKAS (DETROIT) (SOUL)
5:30-6:30 PM – RAFAEL LEAFAR (DETROIT) (EXPERIMENTAL JAZZ)
Location: Detroit Historical Museum Auditorium
1:00-3:00 PM – FILM SCREENING: "RUMBLE: INDIANS WHO ROCKED THE WORLD" (DOCUMENTARY)
3:00-5:00 PM – FILM SHOWING: CONCERT OF COLORS: UNITY THROUGH DIVERSITY (DOCUMENTARY)