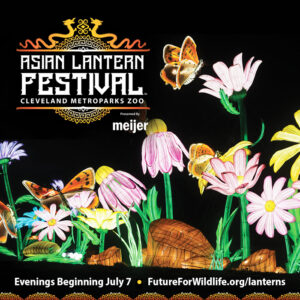 Cleveland Metroparks Zoo's Asian Lantern Festival returns for a sixth year on select nights Friday, July 7 through Sunday, August 27.
Each year, Asian Lantern Festival draws over 150,000 guests to experience the wonder of Cleveland Metroparks Zoo after dark. This year's festival will feature live acrobatic performances every hour on the Fifth Third Bank Stage and a variety of culturally-inspired cuisine at the MetroHealth Asian Food Market.
"Asian Lantern Festival has become one of Cleveland's most popular summer events thanks to the tremendous support from our community and event partners," said Kelly Manderfield, Cleveland Metroparks Chief Marketing Officer. "Set up for this year's event is already underway and over the next month, artisans will be hand crafting the more than 1,000 lanterns that will transform the Zoo, including our most innovative and interactive displays yet."
This year's event promises all new highlights featuring Instagrammable moments and large-scale displays, including a nearly 40-foot-tall giant lantern, walk-through tunnels and a 150-foot-long Enchanted Garden Experience presented by CrossCountry Mortgage immersing guests in larger-than-life displays featuring butterflies, flowers and insects.
"Meijer is excited to be partnering with Cleveland Metroparks Zoo for our third year in support of the Asian Lantern Festival event," Meijer Senior Director of Community Partnerships and Giving Cathy Cooper said. "We hope to help guests immerse themselves within this awe-inspiring cultural experience this summer."
In addition to the full walk-through experience Thursdays through Sundays from 6:30 p.m. to 10:30 p.m., the Zoo is excited to announce the Asian Lantern Festival Drive Thru Experience presented by Serpentini Chevrolet. On select nights, guests will be able to drive thru the festival from the comfort of their personal vehicles.
Tickets are on sale now and guests can reserve their spot and save by purchasing tickets in advance. The advance discounted cost for Zoo members is $19 or a 4-pack for $60. Advance non-member tickets are $22 or a 4-pack for $70. Same day tickets can be purchased at the Box Office for $25 or a 4-pack for $75. Drive-through tickets are $45 per vehicle for members and $55 per vehicle for non-members. Children under 2 are admitted free. Advance tickets are on sale now at FutureForWildlife.org/lanterns.