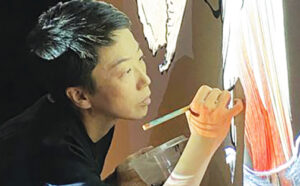 CLEVELAND, June 29, 2023: The Cleveland Museum of Art (CMA) announces it will assume ownership, management, and daily operations of Transformer Station starting in July. Founded in 2011 by philanthropists and art collectors Fred and Laura Bidwell, Transformer Station opened in 2013 and has hosted special exhibitions, programs, and events in partnership with the CMA over the past decade.
Under the CMA, Transformer Station will be a vibrant center for the visual and performing arts, where the CMA will present the work of emerging artists, time-based media, live music, and dynamic social experiences in Ohio City's Hingetown neighborhood.  
Said William Griswold, director and president of CMA, "Throughout our partnership, the combined work of the museum and the Bidwells has created opportunities for the community to engage with the arts in new and inventive ways."
New Immersive Exhibition Opening on July 14, 2023
The CMA's inaugural exhibition as owners of the space will be Blow, a time-based exhibition by Japanese artist Tabaimo (b. 1975), which fuses traditional Japanese art forms with contemporary digital animation. This is the first time the work, on display at Transformer Station through October 8, 2023, will be on view since its acquisition by the CMA in 2012.
The open-ended, fragmentary nature of Blow is intentional, as the artist often draws from personal experiences and emotions. Throughout the five-minute looped digital animation, bubbles, body parts, and various plants float through space. The accompanying audio, which mimics the dripping and rushing of water, is an acoustic collage of digitally invented sounds.
Blow is the installation work that started Tabaimo's flow-wer series of drawings. "I am still drawing the flow-wer series intermittently, and each time I draw, I am reminded of this work," Tabaimo said. "I am very much looking forward to Blow, which will stand in reality for the first time in nine years."
Concurrently on view in Transformer Station's Crane Gallery will be another work by Tabaimo, The Obscuring Moon (2016), which draws on a print by Utagawa Hiroshige (1797–1858), taking it to animated, fantastical ends.