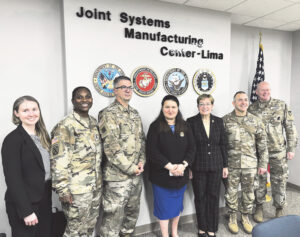 Toledo, August 14, 2023: Founder and Co-Chair of the Congressional Ukraine Caucus, Congresswoman Marcy Kaptur (OH-09) hosted Ukraine's Ambassador to the United States Oksana Markarova for a tour of the Joint Systems Manufacturing Center (JSMC) General Dynamics Land Systems facility in Lima, Ohio led by the United States Army and representatives from UAW Region 2B. Following the tour of the Lima facility, Congresswoman Kaptur  hosted  Ambassador Markarova for a reception at the Toledo Club with members of the Ukrainian American diaspora, Ukrainian refugees impacted by the Russian War in Ukraine, and others who have been assisting with aid efforts to Ukraine.  
The JSMC produces Stryker combat vehicles that are already in use in Ukraine, and M1 Abrams tanks. During the visit it was announced that 31 M1 Abrams are also en route to Ukraine and will be available on the battlefield this fall.
In April, 2022 Congresswoman Kaptur joined a bipartisan Congressional delegation from the House Appropriations Defense Subcommittee for a Congressional Delegation visit to Germany, Poland, and the Ukrainian border. There, Congresswoman Kaptur saw the capabilities of the Abrams in action during training exercises and discussed the value of providing additional weapons systems to Ukraine.
"I was honored to host Ukraine's Ambassador to the United States Oksana Markarova this week for a tour of Ohio's General Dynamics Joint Systems Manufacturing Center in Lima, and to meet the world-class UAW workforce that builds the new Abrams tanks which will aid Ukraine in its counteroffensive efforts." said Congresswoman Marcy Kaptur (OH-09), Founder and Co-Chair of the Congressional Ukraine Caucus. "I was also proud to be able to introduce the Ambassador to so many from across Northern Ohio who have helped to provide aid to Ukrainians in need since Russia's war on Ukraine began 580 days ago. The efforts from our communities have helped so many, and will continue to help refugees and all those in need."
"It's very important to maintain ongoing dialogue with the American people, enterprises, organizations, and regions. To tell them why their support to Ukraine during the war is important," said Ambassador Oksana Markarova. "I'm grateful to Congresswoman Marcy Kaptur, Founder, and Co-Chair of the Congressional Ukraine Caucus for exceptional possibility to pay a visit to Ohio's General Dynamics Joint Systems Manufacturing Center in Lima which produces Strykers and Abrams for Ukraine as well as to meet with people and businesses from Northwest Ohio who have helped to provide aid to Ukrainians. Both military assistance and humanitarian support are making a difference in Ukraine."