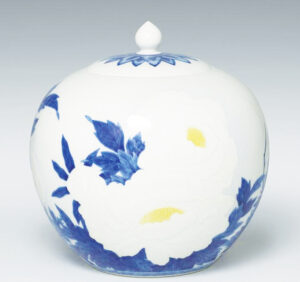 CLEVELAND, August 16, 2023: The Cleveland Museum of Art (CMA) is pleased to announce the opening of its newest exhibition, Colors of Kyoto: The Seifû Yohei Ceramic Studio, on view August 19, 2023, through Sunday, March 10, 2024, in the Julia and Larry Pollock Focus Gallery. Showcasing works in porcelain and stoneware made by the Kyoto-based studio of Seifû Yohei from the late 19th to the mid-20th century, the exhibition debuts extraordinary gifts to the museum's collection from the James and Christine Heusinger Collection. The assemblage was strategically acquired over the past three decades with the goal of representing the full range of forms and styles produced under the Seifû Yohei name and showcasing the work of Seifû Yohei III (1851-1914), the first ceramist to be selected as an Imperial Household Artist, in 1893.
Colors of Kyoto: The Seifû Yohei Ceramic Studio features works by members of the Seifû family that reflect the ceramics culture of Kyoto, an ancient city and former capital of Japan. The artists' engagement with Chinese forms and techniques showcased an alternative way to bring Japanese porcelain into the modern era at a time when Western cultures were leaving a major mark in Japan. The exhibition is the first in North America to comprehensively examine the studio's output from the time of its founder, Seifû Yohei I (1801-1861), through that of its fourth-generation head, Seifû Yohei IV (1871-1951).
"Colors of Kyoto: The Seifû Yohei Ceramic Studio will inspire visitors to discover the relevance of ceramics in Japanese art through a historical framework evocative of contemporary events and issues that impact people's lives," said Sinéad Vilbar, Janice Hammond and Edward Hemmelgarn Curator of Japanese Art. "These intricate pieces demonstrate how social, economic, and cultural factors can affect an artist's work, as well has how governments can use art to communicate cultural values and inspire national identity."
More than 400 years ago, ceramists in Japan first successfully fired porcelain, and from the mid-1600s, Japan took advantage of a gap in the global porcelain trade left by the temporary exit of China from the market, following the demise of the Ming dynasty (1368–1644) and the maritime prohibitions of the early Qing dynasty (1644–1912), to secure orders for its porcelains in Europe.
From the late 1800s, participation of Japanese ceramists in international expositions also became a forum for constructing national identity. While it has garnered less attention in exhibitions and publications outside Japan, there was a robust domestic market for Japanese porcelains as well, including vessels for use in sencha, or Chinese-style tea, gatherings.
The show and its catalogue also use the collection as a lens through which to analyze aspects of the modernization of Japan and to consider the history of international trade.