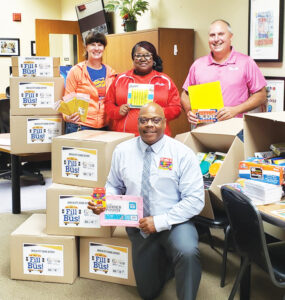 Lorain, Ohio, August 16, 2023: United Way of Greater Lorain County has successfully concluded its annual Fill the Bus school supply drive, resulting in the distribution of over 25,000 essential school supplies across 13 school districts in Greater Lorain County. The program, designed to support young students and educators, aims to alleviate the financial burden on teachers and ensure students have necessary supplies readily available.
This year, the campaign received substantial support from the local business community, with 41 companies hosting collection drives on their premises. Achieve Credit Union, Lubrizol Corporation, R.W. Beckett Corporation, and Green Circle Growers were among the participating businesses.
"We are pleased with the response from businesses this year, exemplifying their commitment to our youngest learners. The generous contributions of both corporations and employees will significantly benefit local school children," said United Way of Greater Lorain County marketing and engagement director Colleen Walts.
Volunteers also played an integral part in the success of the Fill the Bus program. These dedicated individuals devoted their time to collect, organize, pack, and distribute the much- needed supplies, enabling the initiative's seamless execution.
Norma Sanchez, volunteer engagement manager at United Way of Greater Lorain County, highlighted the importance of volunteers. "Our volunteers are the driving force behind the Fill the Bus program. Their collective efforts translated to nearly 95 volunteer hours dedicated to this cause in the current year," said Sanchez.
United Way of Greater Lorain County's president and CEO, Ryan Aroney, reiterated the organization's commitment to providing essential tools for students' success. "Our core belief is that all students should have access to the resources needed to succeed. The overwhelming community support expands our capacity to assist local children to ensure they begin the school year equipped with vital classroom supplies."
The annual school supply drive is a key component of United Way of Greater Lorain County's comprehensive Collect.Sort.Deliver Impact Initiative. This year-round initiative involves volunteers in the collection and inventory of high-demand items such as school supplies, books, and tampons and pads, which are subsequently distributed through local social service and educational agencies.
For more information about the Collect.Sort.Deliver Impact Initiative, please contact Norma Sánchez at 440-277-6530 or via email at norma.sanchez@uwloraincounty.org.
United Way of Greater Lorain County leads community-wide innovation to tackle problems that most people say can't be solved. In unforgiving cities, overlooked townships, and seemingly docile suburbs. We find every dollar we can to address them. But we are more than the fundraisers. United Way brings together over 150 organizations to power 10 Community Collaboratives. Together, we fight for the health, education, and financial stability of low-income working families who need our help in Greater Lorain County. We have one life. To live better, we must Live United. Learn more at uwloraincounty.org or by calling 440-277-6530.