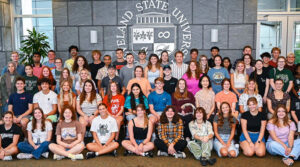 CLEVEND: The Jack, Joseph and Morton Mandel Foundation has bestowed a landmark grant of approximately $3.3 million upon the Cuyahoga Community College (Tri-C®) and approximately $3.5 million upon Cleveland State University (CSU) to further advance the renowned Mandel Continuing Scholars Program. The funding totaling $6.8 million guarantees continued program operations and facilitates long-term planning— bringing exciting prospects for students exploring their transfer options to pursue a bachelor's degree and ensuring a seamless and successful transition.
"We are excited about the possibilities that lie ahead for our students through the Mandel Continuing Scholars Program," said Michael A. Baston, President of Tri-C. "This initiative exemplifies our commitment to nurturing academic talent and producing future community leaders and our commitment to a thriving partnership with Cleveland State University."
The Mandel Continuing Scholars Program, initiated in 2017, is a rigorous pathway for Tri-C's Mandel Scholars Academy graduates, propelling them to Cleveland State University's prestigious Mandel Honors College. The program has already successfully matriculated 110 Tri-C Mandel Scholar alumni to CSU, while 254 students have completed the Mandel Continuing Scholars Program at Tri-C. With renewed support from the Mandel Foundation for eight years extending into 2031, more students will benefit from this exceptional pipeline program.
"We are so grateful for this investment, which reaffirms CSU's strong ties to the Jack, Joseph and Morton Mandel Foundation and our longstanding partnership with Tri-C," said Laura J. Bloomberg, Ph.D., CSU President. "Thanks to the Mandel Continuing Scholars program, even more students in the Greater Cleveland area will have the opportunity to earn a degree and become a Mandel Honors College alum."
"We are pleased to make these further investments to secure the future of this partnership and its enduring impact," said Jehuda Reinharz, President and CEO of the Mandel Foundation. "Tri-C and Cleveland State are cultivating the civic-minded citizens Northeast Ohio needs to lead us toward a stronger social and economic future."
About the Mandel Continuing Scholars Program
Prospective students eager to join the Mandel Continuing Scholars Program must meet strict admissions criteria, including maintaining a cumulative GPA of 3.5 or higher, demonstrating a commitment to rigorous coursework in their chosen major, and exhibiting the ability to complete program requirements within two years.
Upon admission to CSU, students receive a renewable scholarship for up to four semesters, contingent on maintaining a GPA of at least 3.5. The program also provides stipends for full participation in the Mandel Continuing Scholars Summer Seminar.
This collaboration between Tri-C and CSU has set a national standard for honors student transfers between two-year and four-year institutions. The academic pathway ensures a smooth transition for students as they continue their education, offering full-tuition scholarships, dedicated academic advisors, peer mentoring networks, and enriching research opportunities.
The Mandel Continuing Scholars Program builds upon the success of previous academic initiatives generously supported by the Mandel Foundation, including the establishment of CSU's Mandel Honors College in 2014 and Tri-C's Mandel Humanities Center in 2015.
By fostering collaboration between faculty and advisors from both institutions, the program enhances the student experience, bridging the gap between Tri-C and CSU and promoting joint curriculum development and enrichment activities.
The Mandel Continuing Scholars Program paves the way for academic excellence, empowering students to graduate with distinction and take on leadership roles within their communities. The grant will be administered through the Cuyahoga Community College Foundation and the Cleveland State University Foundation.
About Cuyahoga Community College (Tri-C®)
Cuyahoga Community College (Tri-C®) opened in 1963 as Ohio's first community college. It remains Ohio's largest public community college and offers the lowest tuition in the state. Over the last 60 years, Tri-C has provided high-quality, affordable education and programs to more than 1 million community members, fueling economic growth and meeting workforce needs throughout Northeast Ohio. The College is among the top institutions in the nation in conferring associate degrees.
Visit tri-c.edu to see why Tri-C is where futures begin.
About Cleveland State University
Founded in 1964, Cleveland State University is a public research institution that provides a dynamic setting for Engaged Learning. With nearly 16,000 students, ten colleges and schools and more than 175 academic programs, CSU was again chosen for 2022 as one of America's best universities by U.S. News & World Report, including the #1 university in Ohio for social mobility. Find more information at www.csuohio.edu.
About the Jack, Joseph and Morton Mandel Foundation
Jack, Joseph and Morton Mandel established their first foundation in 1953 in their hometown of Cleveland, Ohio. Their philanthropic legacy is continued through the Jack, Joseph and Morton Mandel Foundation and the Jack, Joseph and Morton Mandel Supporting Foundation. The work of the Foundations is grounded in the belief that exceptional leaders, inspired by powerful ideas, are key to improving society and the lives of people around the world. The Foundations have identified five areas of engagement that receive support, which include: leadership development, management of nonprofits, humanities, Jewish life and urban engagement. For more information, please visit mandelfoundation.org.