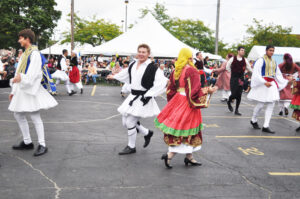 TOLEDO, Sept. 6, 2023: The 51st annual Greek-American Festival will be held in downtown Toledo Sept. 8-10, 2023. It begins on Friday, Sept. 8 at 11 a.m. The festival will go from 11 a.m. to 10 p.m. Friday with free admission until 3 p.m. An ala carte menu will be available for festival goers, with foods and deserts favoring Greek tastes.
The festival will pick back up on Saturday at 1 p.m. and go until 10 p.m. and on Sunday, the festival will start at noon and last until 6 p.m.
The Food Tent at the festival features several dinner platters. The sampler platter will offer pistachio, moussaka, spanakopita, tiropitas and dolmathes. The chicken platter will have chicken oregano on a bed of rice pilaf, moussaka, pastichio, spankopita and bread. The lamb shank platter will have rice and green beans and bread. The souvlaki platter will have rice, spanakopita, rice, green beans and bread.
Fast food tents will also serve gyros topped with onions, tzatziki sauce; Greek fries, hot dogs, cotton candy and Greek pizza also on hand.
Greek entertainment presented including different forms of Greek dancing, performed by various dance groups and students of the Church.
Holy Trinity Greek Orthodox Cathedral is the host, with its annual fundraising efforts to support the church. Preguntas? 419-243-9189.