Por: Isabel Flores, corresponsal de La Prensa
En el corazón de Ohio, late la pasión y el espíritu de la comunidad hispana, cuyo impacto y presencia en el estado no pasan desapercibidos. Con una historia rica y diversa, los hispanos de Ohio han contribuido de manera sustancial en campos que van desde la política hasta la gastronomía, y desde la educación hasta las artes. Durante el Mes de la Herencia Hispana, se realizarán eventos y festividades que destacarán las increíbles contribuciones de esta comunidad. Más allá de las celebraciones festivas, estas actividades reflejan el compromiso continuo de Ohio con la inclusión y el reconocimiento de la importancia de la Herencia Hispana en la construcción de un futuro próspero y diverso en el estado.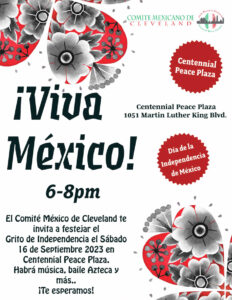 Cleveland
El Comité Mexicano de Cleveland invita a la celebración ¡Viva México! el sábado 16 de septiembre de 6:00 a 8:00pm en Centennial Peace Plaza. Habrá música, baile Azteca, comida y una gran variedad de actividades.
Ese mismo día, el Centro de Artes Culturales Julia Burgos presenta ¡CELEBRANDO! 2023 el sábado 16 de septiembre de 4:00 a 7:00pm, en el 2800 de la avenida Archwood. Una ceremonia en honor al Mes de la Herencia Hispana-Latina. Únete para una noche emocionante en donde encontrarás:
Música en vivo
Talleres interactivos
Espectáculos de danza
Exhibiciones de Arte
Tablas de Recursos
Venta de arte
Actividades para niños
Comida latina
juliadeburgos.org | 216 894 5664
Más tarde, el 21 de septiembre, la Biblioteca Pública de Cleveland, ubicada en el 17109 Lakeshore Blvd, te invita a "Viajar" a un país o lugar diferente cada semana. A través de un programa intergeneracional explorarás la vasta diáspora de la Herencia Hispana. Aprenderás sobre la historia local, se realizarán divertidos juegos y se crearán manualidades únicas. ¡Los lectores de Cleveland Reads! pueden sumar más libros a su total de lectura al obtener libros de autores/ilustradores hispanos durante todo el mes.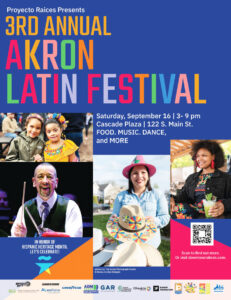 Akron
Para celebrar el Mes Nacional de la Herencia Hispana, la tercera edición del Akron Latin Festival estará en Cascade Plaza el sábado, 16 de septiembre de 3:00 a 9:00pm. Habrá juegos, comida, diversión y mucho más.
Con música de:
DJ Coraly
Mariana González (Mariachi)
Sammy De León y su orquesta
Comida de:
El Patrón Tequilería & Cuisine
Panchitas CLE Mobile Grill & Catering
Rocoto Foods
La Reina Boricua
Mex In' Peru
Pedro's Taqueria
Tumbao58
Taco Veloz
¡y más por venir!
Vendedores de productos:
The Suite
Latín Minga
Artesanía Mexicana
Ttemud (joyería, tela, ropa, decoración peruana)
Haus of Sin Cosmetics
¡y más por venir!
Área para niños y Carpas de países que incluyen
Honduras
Guatemala
México