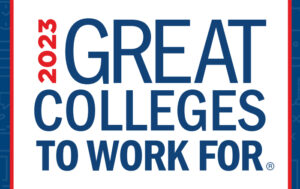 CLEVELAND, Sept. 12, 2023: Cuyahoga Community College (Tri-C®) recently received two awards, showing it's a great place to work. The College was honored with a 2023 Northcoast 99 Award and recognition from the national Great Colleges to Work For® program.
Tri-C won its 17th NorthCoast 99 Award, presented by ERC. It recognizes companies with human resources practices that drive results, provide competitive advantages and allow businesses to innovate and grow.
Applicants are evaluated on policies and practices related to attracting and retaining top performers, as well as data collected from employee surveys. The process offers a blueprint for possible workplace initiatives and validation for current organizational initiatives.
Tri-C is one of 22 two-year institutions named among the Great Colleges to Work For in 2023. Award-winning institutions were selected from a field of 194 two- and four-year colleges evaluated via a two-part assessment process: the Higher Education Insight Survey, administered to faculty, staff and administrators, and the Higher Education Institution Questionnaire, which captures employment data and workplace policies and practices.
More than 3,000 people work at Tri-C, making it one of the region's largest employers.
Visit the Great Colleges to Work For website for more information on ModernThink and the program. View a full list of NorthCoast 99 award winners at the Northcoast 99 website.