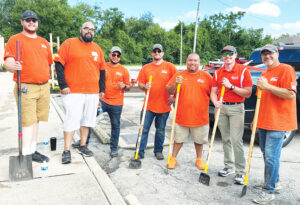 By La Prensa Staff
TOLEDO, Sept. 22, 2023: The Believe Center is getting a makeover of sorts—cosmetically, in leadership, and in its community programming. But the end product will help the Latino community in more ways.
Leadership Changes
The Believe Center underwent some leadership changes in the last few months, most noticeably with a new executive director. Vinny Riccardi took over the center's day-to-day operations, while former executive director Tonya Durán is now his number two, which allows her to focus on the center's sports programming.
Home Depot Community Project
Just in time for the start of Hispanic Heritage Month, a team of community volunteers from Home Depot stores and operations across Northwest Ohio completed a $30,000 beautification project around the Believe Center grounds. The project included a new playground, fencing, better security, and new landscaping.
"We poured a lot of love on the Believe Center. We did a major overhaul on the front of their building and another overhaul in their back nursery and playground area," said Christopher Miller, Home Depot Center of Excellence training manager for the company's fulfillment center in Luckey, Ohio.
"Last night when I left, I actually cried, because I saw the lights on the poles and it brightened up the whole center," said Ms. Duran. "It was like coming home. It was really nice."
"I felt like I was at a Hispanic cantina," echoed Riccardi. "I was ready to have my food on a bench, wondered where's the music. Looking at it, it's so serene. You can sit on that bench now snd feel like you're in a park instead of looking at whatever."
The team of volunteers planted new shrubs and flowers, painted rooms, put in new flower boxes, installed a new swing set and other playground equipment, and repaired and replaced a fence in the rear of the building. The effort took four months of planning by Miller and collaborators.
"I just love giving back," said Miller, who has led 60 such projects over the past decade. "That's what it's all about. If we can pour love and benefit and bless an organization, group of people or an individual, that's why we're here."
The $30,000 project was split evenly between a Home Depot grant and donated supplies from Tough Shed, Superior Fence and Rail in Oregon, Black Diamond, and other local companies. More than 70 volunteers worked over two days to complete the project just in time for the start of Hispanic Heritage Month. Some of the volunteers came from as far away as Van Buren.
"This took a lot of time and energy and spinning plates, but at the end of the day, I'm feeling pretty full right now, so this is pretty awesome," said Miller.
Mental Health Makeover
The Believe Center leadership team is assuming control of mental health services once offered to Latino individuals and families formerly administered by the now-defunct Adelante, regardless of the outcome of a federal investigation into the former nonprofit's finances and any criminal charges that may result. The FBI is among the agencies now conducting a forensic audit to figure out how tens of thousands of dollars went missing, forcing Adelante to suddenly close last year.
The Believe Center likely will add some staff to help with its new role of outreach, education and referral of mental and behavioral health services, now funded by the Lucas County Mental Health and Recovery Services Board (MHRS) and other sources to the tune of about $250,000.
"The had been very big gap within the Latin community here in the south end and for Toledo in general," said Riccardi. "Unfortunately, a lot of people are not aware of the behavioral health care services that are available. There's (also) the issue with language, so we've got to make sure we're bilingual and understand the culture. You don't tell people your problems. You go the grandmother or the grandfather and it just stays internal. That worked well in the past, but with how we're changing as a society, we need more outside help."
The situation could be viewed as the perfect storm—the Adelante situation, combined with COVID and a lack of physician contact with Latino family members, the inability to communicate with the greater community, language barriers, and cultural competence. That presents a huge challenge for Believe Center staff going forward. Riccardi pointed out that has caused another level of trauma in many of the families.
"Mental health is very taboo within the Latin community. That's seen as a sign of weakness, which it shouldn't be, but unfortunately is a part of the social upbringing," he said. "We have to dispel that myth and let people know it's fine to share and look and seek help."
The Believe Center also will be involved in the schools doing a ten-week prevention program.
The growth of the Believe Center's services and programs already has Riccardi thinking of possible expansion in the next few years, possibly involving a capital campaign. The center already serves over 2,000 youth annually, not counting undocumented families or walk-ins.
"We're probably looking at 5,000 people or more when you look at all of the community stuff that we do," he said. "We need to accommodate more. We need more space. We need some space to do some counseling, more space to do the education component. I know we're going to be expanding when we do the prevention model, because it's not just going to be in the schools. It's going to be here, plus we have our other programming. That's part of the conversation we've already started with the city of Toledo."
Riccardi admitted there were a number of large-scale conversations within the Latin community as to where to locate mental health services. The Believe Center was chosen because it was a "known entity where people would go" and felt comfortable attending sessions.
Sports Complex Administrators
The Believe Center leadership team has also been tabbed to run the administrative side of a proposed sports complex to be built on the site of the former Libbey High School, 1250 Western Ave. The sports complex was announced and drawings shown during a recent 100th anniversary celebration of the former high school, attended by generations of Libbey HS alumni.
At the event, Toledo native, Libbey alumnus, and former New York Yankees farmhand Chet Trail announced a nonprofit he formed. Libbey HS Redevelopment, LLC, now holds a 99-year lease on the former school site. He also showed the crowd drawings of a proposed sports complex to be built on the site, with groundbreaking expected either later this year or in 2024. Trail incorporated his limited liability company with the Ohio Secretary of State in early 2022.
The drawing shows a sports complex which includes indoor and outdoor sports, including baseball, soccer, and tennis, indoor batting cages, and a large building with classrooms. How much the sports complex will cost, a construction timeline, and funding sources are unclear at this point. Trail is raising the money, while the Believe Center would run the programming.
"Realistically, it will be the (sports) programs we have here, but on a bigger note," said Riccardi.
"Our kids would be the beneficiaries to have their games and practices at the fields," said Duran.
While there has been talk in the community of a new football field, Riccardi stated the most likely location would be the lower half of Danny Thomas Park, just below where the Cal Ripken, Jr. Foundation funded the construction of a multi-sports facility in recent years.