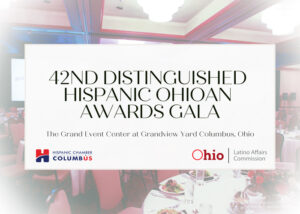 By La Prensa Staff
Several Cleveland and Columbus area Latinos are among this year's Distinguished Hispanic Ohioan awardees who will be honored at the first in-person ceremony since the COVID-19 pandemic.
The Ohio Commission on Hispanic/Latino Affairs (OCHLA) and its board recently announced a statewide slate will receive the Distinguished Hispanic Ohioan (DHO), Latino Military Service of Distinction Award, and Nuestra Familia awards.
These acknowledgements provide an opportunity to highlight individuals and organizations that have demonstrated outstanding achievements in their professional or community service endeavors, and who serve as role models for the growing Hispanic/Latino community in Ohio.
The award recipients will be honored during the 42nd annual Distinguished Hispanic Ohioans Award Gala October 14t at The Grand Event Center at Grandview Yard in Columbus. Proceeds from this event will be utilized to support two established scholarship funds for Latino students.
"As a board, we have always considered the Distinguished Hispanic Ohioan Awards one of our most valued and important responsibilities. There are incredible leaders who are doing so much for the Latino community," said Commissioner Mary Santiago, chair of the DHO committee.
There are two DHO award recipients from the Cleveland area: Marcia Moreno, founder and president, AmMore Consulting of Rocky River and Victor Ortiz, school safety liaison, The Ohio School Safety Center in Lorain.
Ms. Moreno's professional career includes Latino-serving agencies—first as business development manager El Barrio, as a researcher at Case Western Reserve University, then as associate director at Esperanza and manager of diversity and equity at Thompson and Hines.
Of Chilean descent, she currently serves on the boards of the Greater Cleveland Partnership, the Northeast Ohio Hispanic Chamber of Commerce, University Circle, and COSE. Ms. Moreno won the 2023 YWCA Women of Achievement Award, 2021 Crain's Women of Note, 2020 Immigrant of the Year, and 2020 PWC LeadDIVERSITY Alumni of the Year.
"Marcia's unwavering dedication to the Latino community in Northeast Ohio spans over 17 years, which she has made a profound and positive impact," wrote her nominator, retired Cleveland attorney Jose Feliciano. "As a tireless champion, particularly in the area of diversity, equity, and inclusion (DEI), she has consistently worked towards advancing the interests and well-being of the Latino community."
Ortiz is a Navy veteran who also served with the Oberlin Police Department, where he is a former police officer of the year. He is credited with investigating drug cartels and leading a human trafficking case while serving with the Lorain County Drug Task Force.
Ortiz served on the board of El Centro de Servicios Sociales for over a decade, including board chair and president, as well as co-chair of the Ohio Hispanic Veterans Memorial. He has also participated in the Lorain Historical Society's Latino History Project. The Lorain native is actively involved in his Catholic church, has coached numerous youth sports teams, and volunteers for community projects through the Knights of Columbus.
"I personally admire Mr. Ortiz's unwavering passion, dedication, and commitment to connecting the Latino community in Northeast Ohio with opportunities and services," wrote nominator Victor Leandry, El Centro executive director. "His selfless contributions have positively impacted the lives of many and his leadership continues to inspire us all."
Two Columbus-area Latinos will receive DHO awards: José Morales-Crispin, director of diversity, equity, and inclusion (DEI), Office of the Ohio Public Defender of Hilliard, and Lillian Morales Laster, HR director, United Midwest Savings Bank in Pickerington.
Morales-Crispin began his career as an educator, establishing a Heritage Speaker program at Whitehall Yearling High School, to encourage students to use their native language while learning a second language. That effort led to Latino Night: Community and Culture, to address frequent challenges faced by the Latino community.
He later moved to a community liaison role with the Franklin County Sheriff's Office, working to bridge a lack of representation and mistrust between the Latino community and law enforcement. He ensured programs and services from the sheriff's office were offered in a bilingual format, bridged relationships between deputies and the community, and ensured the Latino community and others had input on law enforcement operations.
After earning a master's degree in public administration, Morales-Crispin, of Puerto Rican descent, became the first-ever DEI director at the state public defender's office. His commitment to social justice is credited with ensuring Latinos and other underserved communities access opportunities, inclusive spaces, and services within the justice system.
"It is nice and refreshing to see young professionals give back to their community and take on leadership roles that challenge them to grow and serve as an inspiring example for others," wrote nominator Yahaira Rose. "I cannot say enough about Jose and his indispensable role in our community, county, and state."
In her role as a banking HR professional, Ms. Morales Laster is credited with establishing ELLA, the Empowering Latinas Leadership Academy, a mentoring program for young professionals. She also services as program director for the Latina Mentoring Academy, which focuses on empowering women through professional development workshops and other activities. She also serves as the grant write for the Women's Fund and served on the LULAC board.
Nominator Ronnie Marquez-Posey wrote that Ms. Morales Laster is derserving of the DHO Aaward as someone "who focuses on advocacy and policy work, community outreach and engagement, promotes Latino cultural awareness and appreciation and ultimately because she is collaborative in her efforts."
Two veterans from the Central Ohio will receive the Latino Military Service of Distinction:
First Sergeant Anibal Matos, U. S, Army, of Westerville and Aviation Machinist Mate Airman DiMaris Medina-Cortes, U.S. Navy, from Columbus.
Sgt. Matos was born and raised in Puerto Rico, but graduated high school stateside and enlisted in the U.S. Army. He retired from the military in 2013 after a 25-year career as a missile specialist, recruiter and educator in Cleveland and Columbus. He currently works for the Defense Logistics Agency as an HR specialist and team leader. He has completed an undergraduate degree in accounting and a master's degree in human resources.
"I have seen for many years how he lives an exemplary life with his family and in the community," wrote his nominator, cousin Dave Matos. "He maintains his integrity and high personal standards."
Dr. Medina-Cortes served in the Naval Reserves until 2006 and has since obtained a doctorate in business administration and worked in law enforcement for more than 15 years, serving a decade as a detective investigating financial and other white-collar crimes. She is also an educator, police academy instructor, and teaches self-defense classes to youth.
"Dr. Medina-Cortes has dedicated many years to volunteering within her community, serving and educating those underserved and underprivileged communities," said nominator Beth Guzman-Bowman. "She works to improve Latina representation in law enforcement, improve housing opportunities and community safety, and as an advocate and voice for the unspoken."
Barb Piscopo, executive director, Lorain Historical Society and Columbus Bilingual Academy North and its principal Michael Mora Brenes will each receive the Nuestra Familia Award.