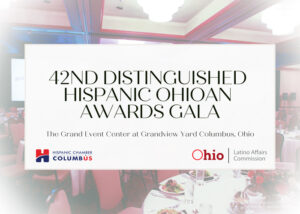 By La Prensa Staff
Sept. 2023: Two Northwest Ohio Latinos are among this year's Distinguished Hispanic Ohioan awardees who will be honored at the first in-person ceremony since the COVID-19 pandemic.
The Ohio Commission on Hispanic/Latino Affairs (OCHLA) and its board recently announced long-time insurance executive Mark Urrutia of Sylvania Twp. will receive Distinguished Hispanic Ohioan (DHO), while the Latino Military Service of Distinction Award will go to David Brown, Senior Master Sergeant, U.S. Air Force, Toledo.
These acknowledgements provide an opportunity to highlight individuals and organizations that have demonstrated outstanding achievements in their professional or community service endeavors, and who serve as role models for the growing Hispanic/Latino community in Ohio.
The two men will be honored during the 42nd annual Distinguished Hispanic Ohioans Award Gala October 14t at The Grand Event Center at Grandview Yard in Columbus. Proceeds from this event will be utilized to support two established scholarship funds for Latino students.
"As a board, we have always considered the Distinguished Hispanic Ohioan Awards one of our most valued and important responsibilities. There are incredible leaders who are doing so much for the Latino community," said Commissioner Mary Santiago, chair of the DHO committee.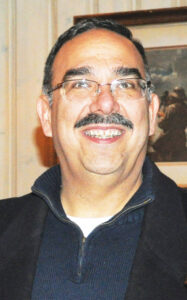 In his nomination of Urrutia, OCHLA commissioner Dr. Greg Guzman called him "an absolute staple and leader in the Greater Toledo Latino and Hispanic community."
"Mark is an active champion and consummate leader in the Northwest Ohio Latino community that the state of Ohio can be very proud to call a Distinguished Hispanic Ohioan," wrote Dr. Guzman.
Urrutia has been involved in a long list of Latino organizations, including the Northwest Ohio Hispanic Chamber of Commerce, the University of Toledo Latino Alumni Affiliate, Latino Alliance of Northwest Ohio, the Spanish American Organization, Latins United, and founded the nation's first Latino affiliate of the Catholic Order of Foresters to assist fellow Latinos with financial literacy and financial planning.
Across the greater Toledo community, Urrutia was named Rotarian of the Year for the Toledo Rotary Club where he is also a past president, Alumnus of the Year in 1997 for his UT fraternity Pi Kappa Phi, Jaycee of the Year as a member of the Glass City Jaycees.
Since graduating with a marketing degree from the University of Toledo, Urrutia has been deeply involved in alumni organizations, university committees, the UT Foundation, and the UT President's Council on Diversity.
Urrutia is a former board member for Leadership Toledo, served as health and safety director for the Toledo chapter of the American Red Cross, and executive director of the Northwest Ohio Minority Business Council. Urrutia is also credited with having led, managed, and brough the state's Minority Business Assistance Center to the University of Toledo's Scott Park campus. He has been with Skyway Financial Group/Catholic Order of Foresters since 2000.
Urrutia, 59, told LaPrensa he is "incredibly humbled to be receiving the DHO Award, comparing it to a lifetime achievement award. He stated that paying it forward was a lesson learned by the examples of others as a young man.
"I like to keep busy. Secondly, I was raised by a single mom and a lot of people did things for us growing up, mainly family, school, and other support systems," he recalled. "A lot of people made an impact over my lifetime, particularly when I was young. I want to be able to help other people as well. When I have the opportunity and the feeling's right, I want to give back."
Urrutia is married to Lisa and the couple has two adult children: Kathryn, who graduated from Ohio State University and is working on her graduate studies at Northwestern University and lives in Chicago. Their son Andrew, who graduated from Kent State University.
David Brown served in the U.S. Air Force for more than two decades, retiring as a master sergeant before joining the Toledo Fire and Rescue Department as a firefighter where he now holds the rank of lieutenant in the communications bureau. OCHLA commissioner Guzman was joined in Latino Military Service of Distinction Award nomination by Brown's brother, Toledo Deputy Fire Chief Daniel Brown-Martinez.
"From a young age, David has shown to be an outstanding individual within this community. Growing up in a challenged area with limited means and a broken family, my older brother David showed me how to help others in need," wrote Brown-Martinez. "He himself had no role model to follow. Despite the many obstacles, David joined many school organizations and taught his younger brothers the power of community."
According to his nomination form, Sgt. Brown's spirit of service started as a youth, as a member of the Hispanic Club and Spanish Club while in high school. He would participate in barrio cleanups, play taps at military funerals, play music at local fiestas, and deliver food baskets.
"David has continued to be a strong role model for his community. He has been involved with the Toledo Public Schools as a mentor with several programs," wrote his brother. "He also has continued to help the less fortunate with the Angels Outreach food basket program, continuing to provide funeral honor guard service for veterans, and has assisted with a litany of City of Toledo initiatives."