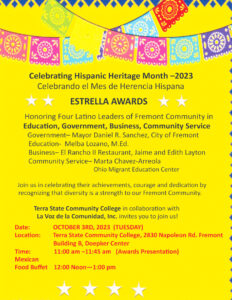 FREMONT: On October 3rd, 2023, La Voz de la Comunidad, Inc. in collaboration with Terra State Community College in Fremont, Ohio is sponsoring a Hispanic Heritage Month Event at the campus.
An Estrella Award Ceremony, (Our Shining Star) is planned to honor Latino Leaders who have contributed significantly to our Fremont City community in the categories of Education, Government, Community Service, and Business.  The selected Honorees are as follows:
Government: Mayor Daniel R. Sanchez, City of Fremont
Education: Melba Lozano, M.Ed
Business: El Rancho II Restaurant Owners, Jaime and Edith Layton
Community Service: Marta Chavez-Arreola, Ohio Migrant Education Center
Their journey is unique and inspirational in how they arrived in their chosen profession.
During the Awards Ceremony, a narrative about each Honoree will be given that captures their courage and strength in pursuing their professional dream and "paying it forward" by volunteering in many capacities in several community initiatives.  Each Honoree will receive an Awards Plaque in recognition of their contribution as a community Latino Leader.
Hispanic Heritage Month at Terra State Community College:  Estrella Awards Event
Date:               October 3, 2022 (Tuesday)
Time:               11:00 am – 11:45 am Estrella Award Ceremony
Location:         Terra State Community College, 2830 Napoleon Rd., Fremont, Ohio 43420
                        Bldg. B, Doepker Center        
                        2830 Napoleon Rd., Fremont, Ohio
Luncheon:       12:00 Noon – 1:00 pm
Mexican Food Buffet will be served following the Awards Event
The 2023 Theme for National Hispanic Heritage Month is: Latino's: Driving Prosperity, Power, and Progress in America.