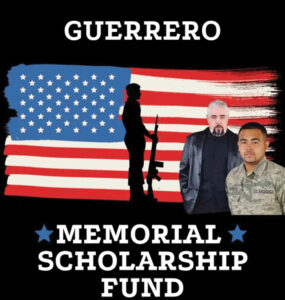 Perrysburg, OH, October 7, 2023: The 4th annual Guerrero Memorial Scholarship Fundraiser Campaign will kick off on Monday, October 9th at 3:00 pm at Taylor Hyundai Perrysburg.
The campaign aims to award $10,000 scholarships to 10 recipients on February 28th, 2024. In the past, the campaign has donated to the University of Toledo Scholarship Foundation for 2 years. This past February 28th, 2023, the campaign did things a little differently. Recipients were asked to submit an essay to the Taylor Hyundai Marketing Department in Perrysburg, OH on why they need the scholarship and how it would help. The essay period was open from January 1st through January 31st, 2023. Scholarships were awarded on February 28th, 2023 at Taylor Hyundai Toledo.
The campaign was founded by Melinda Sanchez in honor of her nephew Sebastian Guerrero III and her brother Robert Guerrero, both of whom served in the US Air Force. Sebastian was hit and killed by a semi truck driver while changing a flat tire on his 21st birthday. Robert died from COVID-19 on January 15, 2021.
In addition to the kick off event on October 9th, the campaign will also host a fundraiser event at The International Event Center 5050 Jackman Rd in Toledo on 11/11/2023. This event will also be the 8th birthday of Sebastian's son Sebastian. The event will feature food, raffles, and music. All proceeds will go to the scholarship event.
"We are excited to kick off the 4th annual Guerrero Memorial Scholarship Fundraiser Campaign," said [Melinda Sanchez]. "This campaign is a way to honor my nephew and brother and to help other students achieve their educational goals. We are grateful for the support of the community and we hope to raise a lot of money to support our students."
To learn more about the Guerrero Memorial Scholarship Fundraiser Campaign or to donate, please visit www.Toledotoptalent.com