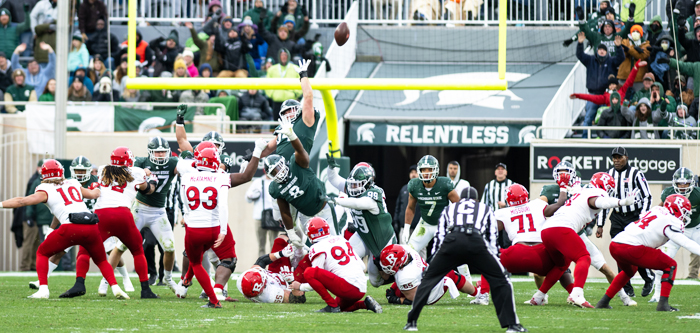 By Larry Arreguin
EAST LANSING, MI, , November 12, 2022:  Spartans defeat visiting Scarlet Knights 27-21, using a balanced approach in the air and on the ground, passing 35 times for 256 yards and running 35 times for 197 yards.  The Spartans are 5-5 for the season and 3-4  in the conference.
Payton Thorne, Quarterback (#10), finished the game with 256 yards passing and 2 touchdowns.  Leading rushers for the Spartans were Jalen Berger, Running Back (#8) with 85 yards and Jarek Broussard, Running Back (#3) with 80 yards.  On the receiving side Jayden Reed, Wide Receiver (#1) had 4 catches for 90 yards.  Defensively, the Spartans were led by Cal Haladay, Linebacker (#27) who had a career high 19 tackles.
The Scarlet Knights were led by Kyle Monangai, Running Back (#23) who rushed for 162 yards on 24 carries.  On defense, Avery Young, Defensive Back  (#2) and Tyreem Powell, Linebacker (#22) had 9 tackles each.
The Spartans will next host the Hoosiers and the Scarlet Knights host the Nittany Lions on 11-19-22.