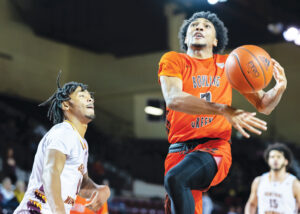 By Larry Arreguin
MOUNT PLEASANT, MI, January 24, 2023: Bowling Green had one thing on there mind when they arrived at McGuire Arena – "A Win Gets Them to .500!" After CMU's Nicolas Pavrette, Forward (#10) made the first basket, the Falcons tied it on a Leon Ayers, Guard (#2) and then never looked back.
At the end of the first half they lead 52-23 and by the time the game was over they were leaving with a 83-61 win.
Ayers led the Falcons with 24 points, hitting 5-6 behind the 3 point line. Chandler Turner, Guard (#13) led the team with rebounds at 7.
CMU was led in scoring by Jesse Zarzuela, Guard (#3) with 24, he also led the team with assists at 3. Zarzuela, also had 4 rebounds tying him with Ola Ajiboye, Forward (#11) for the team high.
Over the weekend, BGSU traveled to Toledo, where they were defeated by the Rockets 91-77. Ayers led the Falcons in scoring with 21. For the Chippewas, Brian Taylor, Guard (#0) made a 3-point basket with 5 seconds to go, to give the home team a victory over Western Michigan 70-69. Zarzuela scored 25 for CMU.