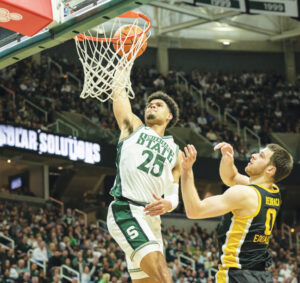 By Larry Arreguin
EAST LANSING, MI, January 26, 2023:  With a little over 4 minutes into the game, the Spartans found themselves down 10 to 0 to the visiting Hawkeyes. Battling back and forth, they would regain composure and head into the half leading 30-29. At the start of the second half, Iowa would take the lead and hold on to it until 11 minutes remained. At that point, they would see saw with the home team, until 1:24 remaining when Tyson Walker, Guard (#22) made a jumper to give the home team a 61-59 lead. Jaden Akins, Guard (#33) would score on the next possession to give the Spartans the edge and the win at 63-61.
Maddy Sissoko, Center (#22) had a solid game scoring 10 and pulling down 10 rebounds. Akins led MSU in scoring with 12 points and Walker led in assists with 5.
On Sunday, MSU (14-7) went on the road to face #1 Purdue (20-1). Against the #1 Team, the Spartans stayed close for the first 5 minutes, then the Boilermakers scored 10 straight and never looked back. The final score was Purdue 77 – MSU 61.