LANSING, Mich., March 15, 2023: Michigan Department of Health and Human Services (MDHHS) Director Elizabeth Hertel highlighted how funding recently approved by Gov. Gretchen Whitmer will help communities address violence.
Hertel met with local leaders from around Michigan who are making their communities safer to learn about what approaches work for them.
Gov. Whitmer approved $10.8 million in Community Violence Intervention Program funding in a supplemental fiscal year 2023 budget bill she recently signed.
"Keeping Michigan communities safe is one of my top priorities," Gov. Whitmer said. "That's why I am gladly supporting funding for evidence-based solutions to tackle the root causes of violence along with commonsense gun safety legislation – universal background checks, safe storage and extreme risk protection orders."
The funding is to develop a statewide Community Violence Intervention Program, with MDHHS awarding dollars to local programs.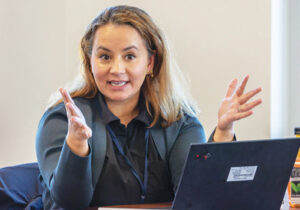 "All Michigan residents should feel safe in their homes, schools and communities," Hertel said. "We must listen to our community leaders about what works in preventing violence and reducing its adverse outcomes in our local communities. We also must provide them with the support they need to continue to make a difference. Gun violence and other types of violence are a threat to public health, but we can work together on prevention and assisting people who are affected."
Included in the supplemental spending bill is:
$8 million for community grants to support already existing statewide programs. This will improve outcomes and strengthen work currently being done by private community organizations.
$2 million to support initiatives to address injuries and fatalities related to misuse of guns. This includes distributing trigger locks and gun safety boxes to households where children are present, education and outreach materials and services on suicide prevention and other gun violence prevention programs that have been demonstrated to be effective in reducing firearm deaths and injuries.
$800,000 to create the Office of Community Violence Intervention Services to support coordinated community violence prevention efforts and provide annual grants to community violence prevention partners.
Gov. Whitmer's Executive Budget proposal for fiscal year 2024 includes an additional $800,000 for ongoing support for the Office of Community Violence Intervention Services.
The governor's budget proposal also includes nearly $2.8 million to the departments of State Police and Attorney General, with:
$1.9 million to Michigan State Police for victim support programming to pay for 14 full-time victim advocates across the state.
$486,400 to the Department of Attorney General to expand capacity of a program that conceals the addresses of victims of stalking, domestic violence, sexual assault, human trafficking and people at risk of being threatened or harmed so they cannot be located by their perpetrators.
$378,700 to Michigan State Police to expand the OK2Say school safety program and hotline that allows students to confidentially report tips on potential harm or criminal activities directed at students, school employees and schools.
Firearms deaths in Michigan have increased from 12.1 deaths per 100,000 people in 2019 to 14.6 deaths per 100,000 in 2020, according to the CDC. In 2020, guns became the leading cause of death for children for the first time in both the U.S. and Michigan. The state has been impacted by mass shootings at Michigan State University this year and Oxford High School in 2021.
In 2021 in Michigan, MDHHS reported 1,484 people died from suicide, with 814 of them using a gun. In a 2019 survey, 13.9% of Michigan high school students said they carried a weapon – such as a gun, knife or club – at least one of the previous 30 days, according to CDC data.
Communities represented at the roundtable were Detroit, Flint, Grand Rapids, Kalamazoo and Lansing. Dr. Natasha Bagdasarian, Michigan's chief medical executive, also attended the roundtable, which was moderated by Tommy Stallworth, Gov. Whitmer's senior advisor, Legislative and External Affairs.