By La Prensa Staff
Latino couples and families can celebrate a harmonic end to Hispanic Heritage Month with a free community concert in Madel Concert Hall at Severance Music Center, 11001 Euclid Ave., Cleveland. Lorain native Sammy Deleón y su Orquestra will perform Saturday, October 14, 7 p.m. The concert is sponsored by WKYC Studios, the Cleveland Foundation, Cleveland Orchestra, and Hispanic Roundtable.
José Feliciano, Sr., retired Cleveland attorney and founder of the Hispanic Roundtable called the Cleveland Orchestra a "world-class organization," but criticized their Hispanic outreach efforts to date, even though the venue sits within ten miles of most of the region's Hispanic residents. Feliciano also sits on a community engagement committee of the Cleveland Orchestra.
"This is one of the richest cultural centers in the world," he said. "From my perspective, it was how can that be shared with our beloved community. That's the thinking behind that."
Feliciano stated the Cleveland Orchestra has a desire to establish and grow a relationship with the burgeoning Hispanic population of northern Ohio, the fastest-growing segment of what has become a stagnant overall population in the region.
Deleón (Margarita's brother) has fronted his own band for more than 25 years, fueling his passion and love of Latin music and performing as a salsa and Latin jazz percussionist. His career spans decades, including as a band leader and educator.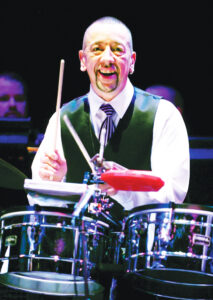 According to his biography, Deleón developed a long-standing friendship with the late Tito Puente, inspiring him to explore Latin rhythms and Afro Cuban music. He has performed on stage and recorded in the studio with some of the biggest names in Latin jazz over the past few decades. His orchestra has performed a number of times across Ohio. He continues to teach and mentor aspiring percussionists in Latin rhythm. In 2016, Deleon received the prestigious Latin Jazz Legend Award for the joy he brings through his irresistible dance music. Plans to record more music are in the works, as he continues to expand his repertoire to include a recording label for young, talented artists.
The concert will feature traditional salsa music, Latin jazz, and a broad array of contemporary Latin music. Feliciano hopes the concert is the start of an annual Hispanic Heritage Month event.
"It's what people want to hear," Feliciano said. "We want people dancing in the aisles. We want them to experience Severance Center, too."
The event will be hosted on stage by WKYC-TV news personality Lydia Esparra, the first-ever Latina TV reporter in Cleveland when she first joined the TV station in 1997. She won an Emmy award for best weekend newscast as weekend anchor. While she left the station for a time for other professional pursuits, Ms. Esparra returned to 3News in 2021 and now serves as the TV station's justice and crime correspondent. Ms. Esparra was born and raised in Youngstown.
Although the concert is a free performance, tickets are required and available on a first-come, first-served basis. At press time, 1.300 of the available 2,000 free seats had already been claimed.
Tickets can be obtained by visiting the Severance Music Center box office in person, by phone at 216.231.1111 or 800.686.1141, or online by clicking on the October 14 show at the website www.clevelandorchestra.com/attend/concert-calendar/.
Parking is available in the Case Western Reserve University Campus Center garage (Lot 29), adjacent to Severance Music Center. Parking cost is $7.